The actor is rejoicing at having won an oscar. What causes you to rejoice?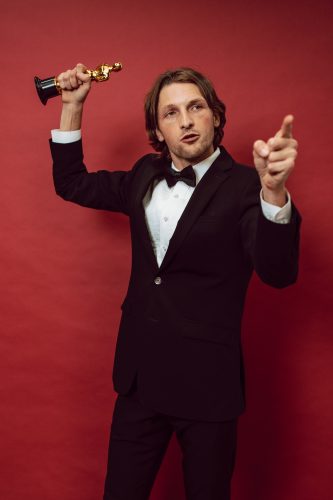 THE FOCAL POINT
The prophet Habakkuk is rejoicing in the goodness of the Lord, despite the ominous signs of the disaster facing his people at the hands of the Babylonians. Even though there is going to be crop failure and depletion of livestock.  His repeated refocusing on the Lord can be seen in the following passages from his prophecy.
Habakkuk 1:12a. CEV

'Holy LORD God, mighty rock, you are eternal, and we are safe from death."

Habakkuk 2:13,14,20. CEV

"But the LORD All-Powerful sends up in flames what nations and people work so hard to gain. Just as water fills the sea, the land will be filled with people who know and honor the LORD. Let all the world be silent– the LORD is present in his holy temple."

Habakkuk 3:17-19a. CEV

"Fig trees may no longer bloom, or vineyards produce grapes; olive trees may be fruitless, and harvest time a failure; sheep pens may be empty, and cattle stalls vacant–but I will still celebrate because the LORD God saves me.The LORD gives me strength. "
Where is your focus when things get completely out of hand?

Do you tend to focus on the problem or on the one who has the solution?
LIFE'S GOAL
The one thing that I recall from the Confirmation classes I attended in preparation for church membership, was the very first question of the Westminster Shorter Catechism – 'What is man's chief end?'
Did you learn this?

Do you remember the answer?
The answer provided is, 'Man's chief end is to glorify God and enjoy Him forever.'
The American theologian John Piper comments, "The old tradition says: 'The chief end of man is to glorify God and enjoy him forever'…. Sometimes you glorify God and sometimes enjoy Him? Sometimes He gets glory, sometimes you get joy? 'And' is a very ambiguous word! Just how do these two things relate to each other?"
John Piper goes on to consider, "What does God have to say about the chief end of man? Does He command us to enjoy Him?" He answers by quoting from 1 Corinthians, "Whether you eat or drink, or whatever you do, do all to the glory of God." (1 Corinthians 10:31 NIV)
John Piper comes to a conclusion that "in all life God be glorified the way He Himself has appointed." Therefore he suggests a change in the wording to read, 'The chief end of man is to glorify God by enjoying him forever'.   (Desiring God", by John Piper – Revised Edition: Meditations of a Christian Hedonist)
So how do we glorify God by enjoying Him forever?
REJOICING IN THE LORD
Where the Contemporary English Version has the phrase, "I will still celebrate" (Habakkuk 3:18) most other versions have "I will rejoice."
We glorify God by celebrating or rejoicing in His goodness.
The phrase 'rejoice in the Lord' appears at least 12 times in Scripture.
In one of his Psalms, David opens with the words, "Blessed is the one whose transgressions are forgiven, whose sins are covered." (Psalm 32:1 NIV) Indeed what a blessing it is to have the assurance that our transgressions (sins) are forgiven.
In the light of this assurance, David ends this psalm with the encouragement to, "Rejoice in the LORD and be glad, you righteous; sing, all you who are upright in heart!" (Psalm 32:11) The knowledge that one's sins are forgiven is a great motivation to rejoice in the Lord.
In another psalm, David appeals to God, "Oppose those who oppose me, LORD, and fight those who fight against me!….may ruin overtake them by surprise—may the net they hid entangle them, may they fall into the pit, to their ruin. Then my soul will rejoice in the LORD and delight in his salvation." (Psalm 35:1,8,9 GNB)
The Lord is the one who promises to save us from dangerous situations. There are times when we are threatened with a danger that perhaps we are not even aware of, yet the Lord works in the background to save us.
An unnamed psalmist wrote, "I will sing to the LORD all my life; I will sing praise to my God as long as I live. May my meditation be pleasing to him, as I rejoice in the LORD." (Psalm 104;33,34 NIV)
REJOICING IN GOD'S PROVISION
The prophet Joel brought a message of encouragement to the people of Judah assuring them that if they turned back to God He would renew His blessing.
Do not be afraid, land of Judah; be glad and rejoice. Surely the LORD has done great things! Do not be afraid, you wild animals, for the pastures in the wilderness are becoming green. The trees are bearing their fruit; the fig tree and the vine yield their riches. Be glad, people of Zion, rejoice in the LORD your God, for he has given you the autumn rains because he is faithful. He sends you abundant showers, both autumn and spring rains, as before." (Joel 2:21-23)
Oh, how the folk living in the Eastern Cape of South Africa need this assurance. We are suffering under a terrible drought. We do need abundant showers to fall particularly in the dam catchment areas. Here in Gqeberha, zero-day is rapidly approaching when we will run out of water. This is, unfortunately, caused partly by the drought, but aggravated by our badly-maintained infrastructure where pipes are constantly breaking (or being vandalised.) Please pray for this situation. People all over the city are rushing to get rainwater tanks installed so that when ANY rain falls, it will be saved for further use. 
Paul's words to the Philippians come to mind, "Rejoice in the Lord always. I will say it again: Rejoice!" (Philippians 4:4) Notice the word 'always'. Our rejoicing should not be confined to when things are going well, but we are exhorted to rejoice always, even when facing trying circumstances.
This brings us to the end of this series of studies on the prophecy of Habakkuk. I trust that you have been blessed through the study. For my part, I have enjoyed putting it together and in the process, I have learned a great deal about trusting God despite trying circumstances and the need to rejoice in the Lord regardless.
ENCOUNTERS WITH JESUS
I have a busy couple of months of preaching as well as a week with my daughter and son-in-law visiting from overseas. (Yay!) So I am planning on posting a short weekly series called Encounters With Jesus. (Starting 2nd June)
Please indicate in a comment whether you would like a further in-depth Bible Study series in similar style to Habakkuk to follow. 
If you haven't yet read the background to the prophecy, please do. Even though we're at the end of the study, you will find It will benefit you throughout this series of studies.
And watch this space for Encounters With Jesus

– starting 2nd June –

As we bring this session to a close, join in singing Paul's words put to song – Rejoice in the Lord always.